News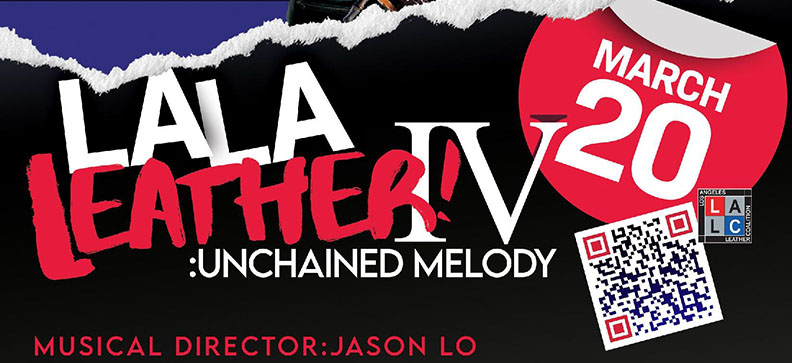 LA LA LEATHER IV: UNCHAINED MELODY
FOR IMMEDIATE RELEASE:
LOS ANGELES LEATHER COALITION ANNOUNCES "LA LA LEATHER IV: UNCHAINED MELODY" CONCERT MARCH 20, 2023 HONORING THE THEME OF LA LEATHER PRIDE 2023 "RELEASE!"
Los Angeles, CA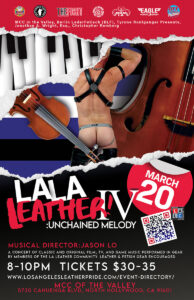 Written for a movie about a men's prison and nominated for an Oscar for Best Song in 1955, the beloved UNCHAINED MELODY is the perfect inspiration for the fourth edition of the LA LA LEATHER Concert series, part of this year's LA LEATHER PRIDE  with its theme "RELEASE!" The series takes its cue from the beloved "Classic Meets Fetish" Concert series held annually in Berlin, and as in previous years, the LA Leather Coalition has introduced the concept to LA leather and fetish audiences with a twist.
In both cities, the music is played live on stage by members of the community in gear and the audience is dressed in their best leather finery.  In Berlin, musicians play traditional pieces of classical music in a neo-Gothic church setting, but in Los Angeles, film capital of the world, the concert consists of selections of beautiful classical and original music featured in film, gaming or television! The concert takes place in the handsome midcentury sanctuary of the Metropolitan Community Church in the Valley celebrating 51 years of service to the LGBTQ community in Los Angeles.  As last year,  additional vocalists and video elements are being added to enhance the experience.
The historic, cultural, cinematic, musical and social connections between the "sister cities" of Berlin (with its Victory Angel) and Los Angeles (the City of Angels) run deep, nowhere more intensely than in their thriving leather and fetish scenes. And, the Los Angeles Leather Coalition, Inc.(LALC) has long been a proud partner of BERLIN LEATHER FETISH (BLF) and FOLSOM EUROPE, two of the premier leather and fetish organizations in Europe, who themselves are sponsors of LA LEATHER PRIDE 2023 "RELEASE!" taking place March 19-26, 2023.  In fact, Dan Reuster, founder and Board member of Folsom Europe, will be one of the judges for the Mr. LA Leather contest this year!
As Tyrone Rontganger, one of the honorary sponsors of LA LA LEATHER and the talented visionary who created Classic Meets Fetish recently said:
"If I were in Los Angeles or anywhere in Southern California next month (like my lucky surf-board queen niece!), I one-hundred-percent know where I'd be going! Those Californians do nothing in halves. I hope that's why my name's on the poster because neither do I!  Very exciting …"
Tickets are $30 advance purchase and $35 after March 19.  Refreshments will be served.  Doors open at 7:30 and the performance begins at 8:00.  Please visit  www.losangelesleatherpride.com/events for more information and tickets!
LALC is the producer of the upcoming RELEASE LA Leather Pride (LALP) celebration March 19-26, 2023, including LA LA LEATHER IV: UNCHAINED MELODY.  Thanks to our generous sponsors at EAGLE LA and GET THE FORK OUT, for the refreshments.  Additional special sponsors for the concert include The Fight, Ben Orson Leather, MCC, Bears LA, Tyrone Rontganger Presents, BLF, Jon Wright, Esq. and Christopher Romberg.  LA Leather Pride is a week-long series of events dedicated to promotion and celebration of the leather and fetish community leading up to The Mr. Los Angeles Leather Contest which is now in its 23nd year!
For more information about BLF and the amazing events in Berlin this year visit https://easterberlin.de/en/.
The Los Angeles Leather Coalition is a 501(c)(4) non-profit organization founded in 1999. Around 30 Community Partner organizations, including clubs, social organizations, bars, and commercial enterprises, participate in the activities located throughout the Los Angeles and Southern California region sponsored by the LALC. These activities include the annual LA Leather Pride festival and the LALC Community Assistance Resource Service (CAReS) program.
For more information, please visit www.LALC.info and www.laleatherpride.com or Facebook page https://www.facebook.com/LALeatherCoalition/
Jon Wright,  LALP 2023 Sponsorship Director
Board Member, LALC